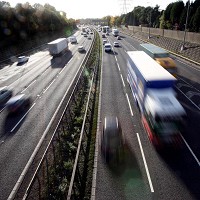 Road safety bosses deny a new speed camera system in Wales is a money-making venture.
The system on the M4 in Port Talbot - which was installed to replace fixed cameras - has clocked a grand total of 6,964 motorists exceeding the 50mph limit since it went live at the beginning of the year.
It has generated more than £500,000 in fines in the process. But GoSafe , the Wales Road Casualty Reduction Partnership in charge of the cameras on the two-mile stretch of motorway, insists they are in place to ensure road safety.
Drivers caught speeding face a minimum fine of £100, while the maximum fine for speeding on a motorway following a court case is £2,500.
Speed awareness courses run on behalf of South Wales Police cost £85.
GoSafe manager Chris Hulme says the money from the fines goes directly to central government. He claims the partnership, which is responsible for the placement of the cameras, does not receive a penny.
The average number of daily offences recorded on the stretch of the M4 is measured at 50, something which GoSafe describes as a small proportion of the 75,000 vehicles that use the road every day.
Mr Hulme adds the 50mph limit is in place because the road is very difficult to travel along.
He says it is tricky to see when people are coming on to the motorway, meaning there is quite a lot of sudden braking or accelerating, so the speed cameras are positioned to slow motorists down in anticipation.
But campaign group Safe Speed says the cameras are not the best way to get drivers to kill their speed.
Spokeswoman Claire Armstrong claims speed cameras have never been proved to reduce speeds while there is no evidence to suggest that speed awareness courses actually make drivers drive better.
She alleges that the money raised through such penalties is finding its way back to the people who fund the speed cameras, so that they can produce more speed cameras and generate even more money.
Copyright Press Association 2015