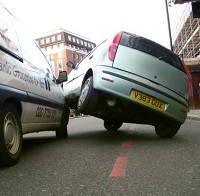 Drivers in Bournemouth who park poorly could be fined £70 after the introduction of a special patrol car equipped with cameras.
The ROADflow digital mobile traffic enforcement system aims to tackle "dangerous and anti-social parking", especially outside schools, according to Bournemouth Borough Council. The authority also plans to control illegal parking at pedestrian crossings and bus stops.
Councillor Robert Lawton, the council's cabinet member for the environment, denied the scheme was designed solely to make money.
He said: "Some may see this measure as a means of taxing the motorist, but this could not be further from the truth.
"We will be delighted if we issue no penalties at all as it will mean drivers are following the traffic regulation orders and parking responsibly."
Bournemouth is the first local authority in Britain to use the ROADflow system. It comes after the council's use of speed cameras to stop cyclists from riding too fast on the seaside promenade.
But unlike the cyclists who cannot face fines, motorists caught by the ROADflow car could be issued with a Penalty Charge Notice (PCN) of up to £70.