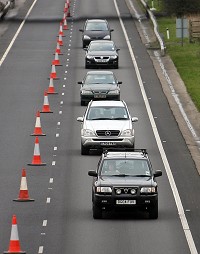 Drivers have been urged to watch their speed limit while going through roadworks to ensure the safety of workers.
The Highways Agency said limits must be observed to prevent accidents and injuries.
Eleven roadworkers were killed, and 104 injured while working on roads in England between 2003 and 2008, according to the Agency.
Derek Turner, Director for Network Operations, said drivers should respect the job done by roadworkers, who carried out their duty in a "dangerous environment".
He said: "Driving through half a mile of roadworks at 70mph takes just 10 seconds less than at 50mph - 10 seconds which can put lives at risk."
Mr Turner added that cones, barriers, signs and speed restrictions were put in place "for a reason".
In a bid to improve safety measures, the Highways Agency has invested £80,000 in two mobile training vehicles, which allow other employers to keep workers up to date with safety information.
Copyright © Press Association 2009