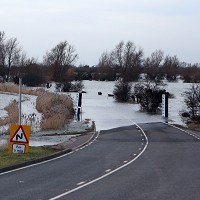 England can only afford to protect its most important transport networks from extreme weather conditions, according to a new report.
Department for Transport director Richard Brown, the former boss of Eurostar, says the Government and public bodies must select the roads, routes and networks that are the most critical economically and the ones that should be prioritised when the weather is at its very worst.
He says there isn't enough money available to do this for the whole of the country's transport network and he is also advising airlines to be pre-emptive with their capacity strategies ahead of weather problems and airports and ports to make sure their anti-flood measures are ready and effective.
"The implication of this report is clear. A growing number of roads will be sacrificed as the incidents of bad weather increase and funds to keep them clear decline," according to the director of the RAC Foundation Professor Stephen Glaister.
Transport Secretary Patrick McLoughlin asked Mr Brown to look into how transport in England is preparing itself for adverse weather conditions following the major storms that hit parts of Britain during the winter. Many motorists had to make car insurance claims because of damage to their vehicles caused by the weather.
Mr Brown suggests all ports and airports make sure their communications, IT and power systems are fully protected from flooding after the problems at Gatwick airport over Christmas.
Mr Brown says all advertising and promotions on websites should be relegated to make the latest customer information much clearer when there are big disruptions to services.
When bad weather strikes, transport operators must make sure they deliver their very best service to their customers, to offer them more certainty.
Mr McLoughlin stresses that despite several weaknesses, the majority of transport operators coped with the storms and flooding problems well, but he says any measures that improve the transport network's readiness for future problems are welcome.
Copyright Press Association 2014