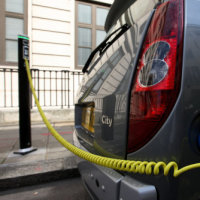 Turning the UK into a nation of zero and low-emission car drivers could help give the economy a multi-billion pound boost, according to a new report.
Economic analysts at Cambridge Econometrics say global policies designed to cut transport emissions by encouraging a switch to electric and hydrogen-fuelled cars could help produce huge savings.
Such policies, their report says, would cut demand for oil and push down prices. That, it adds, could help reduce the amount of money spent around the world on fossil fuels by more than £230 billion each year during the 2020s.
The annual economic benefit to the UK of investing more in domestically-made low-emission cars, the analysis suggests, could be as high as £5 billion.
The report's lead author, Cambridge Econometrics director Philip Summerton, says a switch to low-carbon vehicles, combined with technological advances and government-backed green transport policies, could reduce the amount of oil used around the world by as much as 11 million barrels a day by 2030.
Copyright Press Association 2016. Motoring News articles do not reflect the RAC's views unless clearly stated.