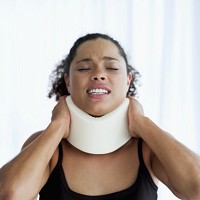 Anyone claiming a whiplash injury after an accident would have have to undergo a medical examination under new proposals aimed at tackling the increasing number of claimants.
The Association of British Insurers (ABI) wants new measures to clamp down on a "whiplash epidemic".
It is estimated that some 1,500 people claim a whiplash injury every day, with reports of the injury rising by nearly a quarter since 2009, despite the overall number of accidents decreasing.
Whiplash claims cost insurers £2 billion a year, adding an extra £90 a year to the average motor insurance premium.
The ABI wants an independent medical assessment carried out for all whiplash claims, taking into account the circumstances of the collision rather than the claimant's reported symptoms.
The group has also called for the Small Claims Track Threshold to rise from £1,000 to £5,000 for all road traffic personal injury claims and a prescribed level of damage awards for whiplash.
To deter bogus claimants, the ABI said anybody whose whiplash claim is in part exaggerated or made up should automatically have their entire claim dismissed.
James Dalton, the ABI's assistant director of motor and liability, said: "We believe our proposals offer the best cure for the UK's whiplash epidemic."
Copyright Press Association 2013