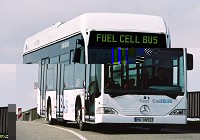 Scotland's labour leader has called for £15 million to be given to local authorities to help develop a fleet of pollution-free vehicles.
Iain Gray said that of the 20,000 vehicles operated by Scottish councils, just 23 are either electric or hybrid.
He said the funds would allow local authorities to purchase 2,000 new electric vehicles.
Labour has already called for ministerial cars to be replaced by electric ones. And the party said that the UK Government has created a £30 million fund, from which operators and councils in England will be able to apply for cash in a bid to buy the less polluting buses.
Mr Gray said: "The First Minister must now make an immediate start by following the UK Government's lead down south with a £3 million fund for hybrid buses.
"A further £15 million of match-funding for local authorities would enable the purchase of 2,000 electric vehicles by councils.
"Scottish local authorities have a fleet of over 20,000 vehicles and only 23 of them are electric or hybrid vehicles. We need to turn this into a clean, green fleet of cars, buses and vans with zero emissions."
Copyright © Press Association 2009