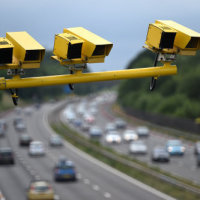 More average speed cameras should be installed on Britain's roads to catch motorists who drive too fast, MPs are suggesting.
The RAC is broadly supporting the suggestion, which is contained in the Transport Committee's latest report on road traffic law enforcement.
But the motoring organisation insists cameras can only form part of the solution and says the presence of traffic police offices also has a vital role to play.
The MPs' report says average speed cameras - unlike traditional fixed ones - can help lessen motorists' perception that they are being "unfairly caught out".
The report suggests their further deployment should be considered, but only in locations where they will improve road safety and cut casualties. Any revenue generated, it adds, should be ploughed back into road safety initiatives and not kept by local authorities or the Treasury.
The RAC's most recent suggests 70% of drivers admit to breaking the 70mph speed limit either regularly or occasionally.
Nick Lyes, the RAC's public affairs manager, says average speed cameras can form part of the solution to the lack of compliance when it comes to speeding.
He adds: "The benefit in using average speed cameras is that they have the advantage of measuring speed over distance, which is in marked contrast with fixed cameras which are often criticised for encouraging sharp braking and acceleration by drivers as they react to the cameras. This reaction can be a potential cause of accidents and does not help maintain steady flow of traffic.
But Mr Lyes says there is more to effective enforcement than just installing more cameras, adding: "The decline in road traffic police officers in recent years has been a worrying trend, with a 23% reduction in England and Wales between 2010 and 2014.
"The presence of road traffic police officers can also play a big part in improving both safety and compliance, as well as giving motorists a sense that law breakers are not just simply getting away with it."
Copyright Press Association 2016. Motoring News articles do not reflect the RAC's views unless clearly stated.