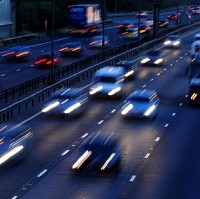 Motorists face one of the year's most dangerous days for driving today, according to safety experts.
It is the first working day since the clocks went back at the weekend, bringing darker driving conditions.
New figures compiled by Halfords show that one in 10 UK motorists was driving around with defective lights on the corresponding Monday last year.
The car parts shop says that such negligence raises the chances of having a road accident.
Halfords monitored 2,147 cars at crowded junctions between the hours of 7.30pm and 9pm. It found that 218 had unroadworthy bulbs.
The company is concerned that the increase in darker driving hours combined with faulty vehicle lights will increase the dangers associated with poor visibility from today onwards.
Road safety campaigners, including Brake and the Royal Society for the Prevention of Accidents (RoSPA), claim there is an answer to the darker nights.
They are calling for clocks to be put forward to create an additional hour of daylight in the evenings throughout the year.
Paul Tomlinson, vehicle bulb specialist for Halfords, urged motorists to be "extra vigilant" at this time of year to ensure they can not only see, but be seen too.
He says that bad visibility is commonplace on the UK's roads at the end of October. Mr Tomlinson warns that faulty bulbs can be dangerous, giving other motorists less time to react when braking.
He says overtaking and estimating gaps between cars can be really hazardous due to faulty vehicle bulbs and poor lighting.
Copyright Press Association 2015