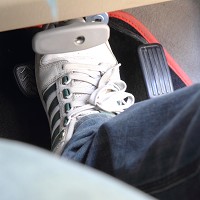 Campaigners are calling for autonomous emergency braking to be fitted to all new cars as standard in order to save lives.
The technology, which applies the brakes when its sensors detect a collision is imminent, costs manufacturers around £40 per car, campaigners say.
Autonomous emergency braking (AEB) is currently available as standard or as an added extra on 95% of new cars, but when it is offered as a paid-for option, just 1.6% of buyers will choose to add it, according to research.
Campaigners spearheaded by What Car? are calling for it to come as standard on all new vehicles.
They say AEB could reduce fatal crashes by about a quarter and cut accidents in which an injury occurs by about a third.
Jim Holder, editorial director of What Car?, makes comparisons with the introduction of mandatory seatbelts back in 1983.
He points out that when seatbelts became compulsory for front-seat occupants of cars the number of drivers killed or seriously injured dropped dramatically.
He believes the evidence is "irrefutable - AEB saves lives", adding that just as all new cars now come with stability control, autonomous emergency braking should also be a standard fit for all mainstream cars.
There are several different types of AEB available, including LIDAR, camera-based and radar systems, which are the most expensive. Many car manufacturers offer these technologies as part of wider safety packages, or as standard on higher-spec models of their vehicles.
Copyright Press Association 2016. Motoring News articles do not reflect the RAC's views unless clearly stated.