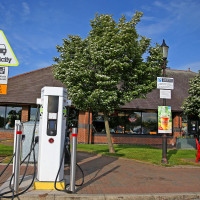 The Government has been urged to look at alternative methods of improving air quality after analysis found that a scheme to scrap the most polluting diesel cars would have only a slight impact.
Experts from the RAC Foundation have said that such alternatives could include increasing the number of charging points for electric vehicles.
It comes after research from the RAC Foundation found that a scrappage scheme to remove dirtiest diesels from the roads would get rid of only a portion of the 1.9 million such motors.
The findings show that a scheme similar to the one introduced in 2009/10 would take just 400,000 of the most polluting motors off the road.
In addition, this would cost around £800 million and require contributions from both the Treasury and car manufacturers themselves.
A further problem would be that it would be difficult to ensure that such a project was focused on the big cities, where most of the pollution occurs.
Steve Gooding, director of the RAC Foundation, said: "Instinctively a scrappage scheme to get the oldest, dirtiest diesels off the road seems like a good idea. But these numbers suggest otherwise.
"At best it looks like emissions would be reduced by only a few percent, unless government was prepared to launch a scheme on an unprecedented scale.
"The big considerations for any scheme include: where diesels are being driven, how far they are being driven and how do these factors change with the age of the vehicle.
"Before being tempted to go down the scrappage route ministers need to ask if the sums might be better spent elsewhere, for example in making sure that the infrastructure is in place to support plug-in electric vehicles."
Copyright Press Association 2016. Motoring News articles do not reflect the RAC's views unless clearly stated.