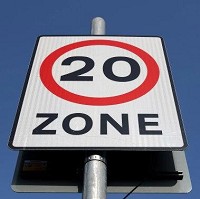 A road safety charity is urging the Government to reduce the standard speed limit in built-up areas to 20mph.
According to Living Streets, pedestrians hit at 20mph have a 97% chance of survival, but this is reduced to just half if they are hit by a vehicle at 35mph.
It argues that thousands of people have lost their lives "unnecessarily" as the Government has ignored these facts and kept speed limits at 30mph.
But ahead of the Government's road safety strategy, Living Streets is launching a campaign to get people around the country to support its call to reduce speeding cars in areas where people live, work and play.
Tony Armstrong, the charity`s chief executive, said: "We have known these facts for years, but there has been a shocking reluctance to spread these benefits widely enough. As a result, thousands have been killed and seriously injured unnecessarily, and many more blighted by fear of traffic around their homes."
It says that pedestrians feel most confident on the streets when cars travel at 20mph, a speed which enables children to play outside in a safer and quieter environment.
The campaign hopes the Government and local authorities will reduce the default limit "to save lives, and allow us all to love our streets".
Copyright © Press Association 2009