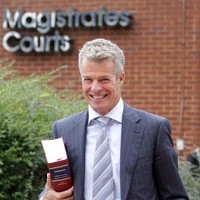 Drivers have already paid over £7.5 million in fines for illegal bus lane use in Manchester this decade, a leading traffic lawyer has revealed.
Nick "Mr Loophole" Freeman is urging the council authority to scrap the lanes, accusing it of not making signs clear enough and using penalties as a cash cow.
Motorists in Manchester pay a "massive" average weekly total of £30,000 in fines, he claims. They face £60 fines for wandering into bus lanes in peak periods, reducing to £30 if paid within a fortnight.
Council officials argue that the penalties help finance Metroshuttle, the city centre's free bus service, and other amenities.
Mr Freeman says unclear signage means motorists are compelled to dangerously swerve at the 11th hour to alter lane. The lanes are unjustified as they take up much of the road but have comparatively few buses on them, he says.
Kate Chappell, a Manchester councillor who handles environmental matters, says its signs comply with guidelines set down by the Department for Transport.
She describes bus lanes as "really important" for transporting travellers across Manchester in peak periods. Most Manchester commuters use public transport to get into its city centre during the morning rush-hour, Cllr Chappell went on.
Mr Freeman won his "Mr Loophole" nickname after helping several celebrities avoid motoring convictions. Clients have included Sir Alex Ferguson.
He says he had his suspicions confirmed about Manchester's bus lane fines after putting in a Freedom of Information (FoI) request.
Copyright Press Association 2015