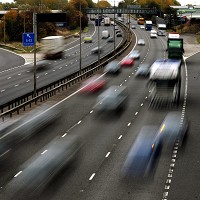 Think-tank Policy Exchange is calling for drivers who offer fellow commuters a lift to be given tax breaks.
It claims doing so would encourage the growth of car-sharing, which in turn would lower the cost of travel for consumers, give people on low incomes access to car travel, and reduce congestion on the roads.
The recommendation is part of plans to increase the mobility of workers across the country.
Policy Exchange says making it easier for people to travel an extra 20 minutes to a workplace would dramatically increase the job opportunities available.
Not everyone has access to a car, so many people have to use public transport to get to work. But buses and trains can only take commuters so far. Grabbing a lift could help them go that extra mile and open up more doors.
Across the eight city regions outside the South East of England, the think-tank claims commuting an extra 20 minutes on public transport would put people in touch with an average of two major employment sites.
It adds having access to a car for an extra 20 minutes of commuting time would give them even more options.
The report says there is a strong case for the Government to encourage the growth of car-sharing through commuter tax benefits.
Copyright Press Association 2015