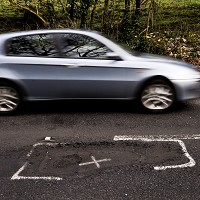 Investing just 2p of the duty that motorists fork out for every litre of fuel they buy would give the Government an additional £1 billion per year to spend on road repairs, it has been suggested.
The Local Government Association (LGA) says giving councils the extra money from fuel duty could help them fix all the nation's potholes and catch up on road maintenance by the mid-2020s.
The Government has earmarked an extra £168 million for road repairs but the LGA says that is not enough. It says £12 billion worth of repairs are needed to bring UK roads back up to scratch after the harsh winters of recent years and decades of underfunding.
The LGA's economy and transport board chairman, Councillor Peter Box, says underfunding has left councils able only to patch up what he describes as a "deteriorating road network".
The Government says more than three million potholes will be repaired by March 2015 as part of what it says is the largest investment in roads for four decades.
RAC head of external affairs Pete Williams said: "The RAC has been campaigning for some time for the Government to ring-fence a proportion of the money it collects in fuel duty, and motoring taxation as a whole, for maintaining and improving roads.
"UK motoring taxation is estimated to raise more than £45bn for the Treasury a year. Fuel duty is, of course, the main revenue raiser, along with VAT which is charged on top of duty on every litre of fuel purchased, so it doesn't seem too much to ask to devote more of this to fixing local roads.
"The 2014 RAC Report on Motoring found that 85% of drivers want to see a higher proportion of transport investment spent on improving local roads and 68% want local roads to be a priority."
Copyright Press Association 2014