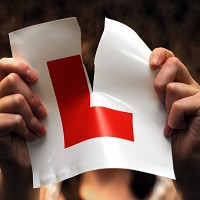 The UK driving test must be overhauled because it does not reflect the risks young people face when they take to the roads on their own.
The RAC, along with the Institute of Advanced Motorists (IAM) and the Under 17 Car Club Charitable Trust say poor weather, driving on country roads and getting behind the wheel at night are the biggest risks young drivers face in the first six months after passing their test.
However, candidates are not currently tested on their ability to cope with any of the three main risk factors.
RAC spokesman Simon Williams said: "Although overall the number of accidents is fortunately coming down, accidents involving young people are still all too common and disproportionately high in comparison to those involving other drivers.
"In fact, research from our 2014 Report on Motoring highlighted that young drivers are more likely to feel uncomfortable (85%) in poor, snowy weather conditions than older, more skilled drivers (75%). "Adding limited experience of country roads and night time driving to the mix is potentially a recipe for disaster. These are issues that must be addressed and more needs to be done publicly to raise awareness of the dangers that young people, and all new drivers face behind the wheel.
"Preparation and planning are vital to ensure young motorists are equipped for whatever driving conditions they face, and it would be beneficial for everybody on the road to make sure the driving test is really fit for purpose and properly reflects the demands on all drivers that take it."
Nearly 200 young drivers and motorcyclists under the age of 24 were killed on the road in 2013 and more than 20,000 were injured - which means more young Britons die in road accidents than as a result of alcohol or drugs.
The IAM's director of policy and research, Neil Greig, has called for the driving test to become a "much more integrated part" of a revamped system that involves best practice from other countries.
He said Austria's "second phase" system - where drivers face several tests over a period of 12 months to examine how their skills and attitudes have changed - should be considered as a model for the UK.
Copyright Press Association 2015