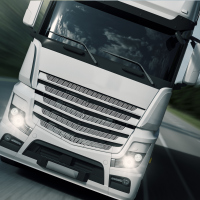 Local councils want the power to fine reckless lorry drivers who cause damage to roads.
Authorities are taking lorry drivers who ignore weight restrictions in rural communities to court whenever possible, yet doing so is often expensive and time consuming.
The Local Government Association (LGA) says councils need to be given proper powers to deal with what is becoming an increasing problem.
It believes the threat of fines would act as a deterrent to those thinking of travelling with more weight than they should.
Peter Box, LGA transport spokesman, claims it is the minority of lorry drivers that is letting the side down.
He says the powers are about protecting the drivers' safety as well as the safety of residents and other road users.
But the Road Haulage Association insists part of the problem of lorry drivers using routes they should not is down to poor signage and the use of inappropriate navigation aids.
LGA, which represents more than 370 councils in England and Wales, suggests any surplus from fines after meeting enforcement costs could be used by councils to tackle the issue of potholes.
Copyright Press Association 2016. Motoring News articles do not reflect the RAC's views unless clearly stated.