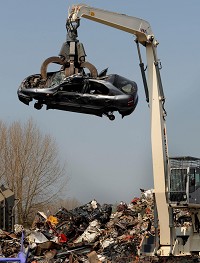 Following a decline of nearly a third in August car production figures compared to the same month last year, the Government has been asked to extend the car scrappage scheme.
The Society of Motor Manufacturers and Traders revealed that UK factories built 56,737 cars, falling by 31.5% on August 2008.
Figures for commercial vehicles dropped by 48.5%.
So far, production has decreased by 44.6% this year for cars and by 62.7% for commercial vehicles, the new data showed.
It was expected that the successful £300 million scrappage scheme fund would run out by the end of next month, the SMMT said, urging the Government to stretch it until next February.
The association's chief executive Paul Everitt said: "A continuation of the scrappage incentive scheme through to the original close date of February 28, 2010 would help to sustain growth and bridge uncertainties associated with the ending of VAT discount."
A 56-month high of 19,173 cars were built for the British market, a third of the total number produced, while cars for export fell by 37%, the SMMT said.
Merited with reigning in vehicle production decline, the "cash for bangers" scheme permits new buyers to receive a £2,000 discount when scrapping a vehicle more than 10 years old.
Car production declined in successive months from July to February by 17.9%, 30.2%, 43%, 55.3%, 51.3% and 59% respectively.
Copyright © Press Association 2009