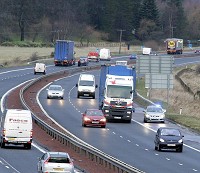 A report has highlighted the need to examine nearly half of Northern Ireland's main road network for skid resistance.
Saying that 46% of the main road network needs checking, the Department for Regional Development has warned that a £700 million maintenance backlog which needs to be addressed.
The report presented at a meeting of the Regional Development Committee at Stormont revealed that last year the number of public liability claims involving carriageways had risen by 15%.
Professor Martin Snaith said: "I recommend that the overall structural maintenance budget be increased to circa £108 million per annum at today's prices."
He added: "This would I believe halt the year on year increase in the extent of the roads which are currently deemed not fit for purpose known as the backlog.
Revealing that the condition of most road networks have declined, the professor said: "It would also be helpful for the economy at large in a time period and hence further annual budget could be provided to reduce this backlog of maintenance of around £700 million."
Copyright © Press Association 2009