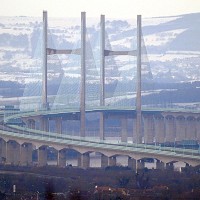 Tolls on the Severn Crossing should be cut once the bridges pass into public hands, the Federation of Small Businesses (FSB) in Wales and the Freight Transport Association (FTA) have said.
In a joint statement on Friday, the two organisations called for charges on the crossings to be reduced just to cover maintenance, once the current contract with Severn River Crossing plc comes to an end.
Both organisations believe the tolls levied on small businesses, hauliers and other drivers are damaging the economy of South Wales.
A recent report by the engineering firm Arup, commissioned by the Welsh Government, suggests that the Welsh economy would be set for a £107 million boost if bridge tolls were abolished.
"For too long businesses have had to pay high tolls to use the Severn Crossings; which are a vital artery between Wales and England," Ian Gallagher, Freight Transport Association head of policy for Wales and the South West, said.
"FTA believes that the tolls must be reduced as soon as the bridges pass into public ownership. As we look to the future, it is clear that the method by which the Seven Crossings were funded is not a suitable blueprint for new infrastructure projects, and we would call for government to steer well clear of any similar schemes."
Copyright Press Association 2013