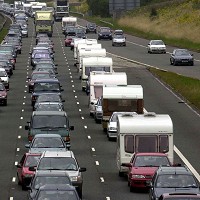 Caravan and trailer owners thinking of taking to the road for a summer trip are being urged to help avoid accidents with some simple checks.
The Highways Agency says they need to be extra careful if the trailer or caravan has not been used for some time, perhaps since last summer.
It warns there is a "big peak" in accidents involving towing during the summer months, with 2,415 such incidents in the July to September period last year.
As well as being frightening and potentially hurting people, incidents on the roads network cause traffic jams and delays. Jams on key roads are thought to hit the economy by £3 billion every year and a quarter of them are caused by crashes or other accidents.
Andy Withington manages service delivery for the Highways Agency and says some "simple checks" can help avoid most of the accidents they see.
He says a car that has been off the road for a long time would need checking over to make sure it is safe, and the same is true for trailers and caravans. Drivers may also want to check their breakdown cover is up to date before setting off.
It's important not to put too much load in them, Mr Withington adds, and to pay special attention to tyres - they can burst if they are in poor repair and may need to be replaced after a while in storage.
Other causes of accidents include not using a suitable vehicle to pull the trailer and not driving in a sensible way for towing.
Last year there were 5,480 problems where a caravan or trailer was involved on Highways Agency roads, nearly 75% of them in the April-September window. In winter and autumn months, 1.4% of incidents feature them but that goes up to 2.6% for spring and summer.
Copyright © Press Association 2014
Copyright Press Association 2014