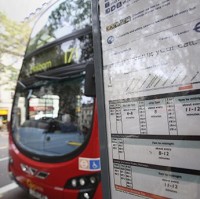 The answer to inner-city traffic jams could lie in giving more priority to buses in built-up areas, a think-tank claims.
The Bus Priority Works is a ground-breaking alliance of transport organisations. Its week-long campaign aims to highlight the advantages of prioritising bus routes.
The coalition says that journey times and harmful emissions could be cut simply by more councils adopting more bus-friendly steps, such as bus lanes.
Its campaign will unveil a new online site revealing the case for bus priority. Representatives will argue their case to policymakers at national and local level. A social media campaign will also publish infographics underlining their argument.
Groups behind the coalition include Transport for London (TfL), Confederation of Passenger Transport and Bus Users, pteg, Campaign for Better Transport (CBT) and Greener Journeys.
The latter's KPMG-gathered study recently showed that dedicated funding for bus priority measures generates on average £3.32 net benefit to the economy for every £1 spent.
The coalition argues that well thought-out bus priority steps bring advantages for local communities and companies, as well as the environment.
This helps reduce bus trip times, makes them more reliable, encourages travellers to ditch their cars and sparks a substantial reduction in traffic jams.
The coalition says congestion costs the British treasury upwards of £11 billion every year.
It claims that everyone benefits. Local communities enjoy reduced noise pollution and cleaner air, and local residents can get to work and the shops more easily. Meanwhile retailers see improved access for their shoppers, the coalition claims.
TfL's surface transport MD Leon Daniels says Londoners already know how bus lanes can make trips more reliable as well as quicker.
CBT chief executive Stephen Joseph says residents living along busy city and town centre routes also benefit - by having fewer harmful fumes to breathe in.
Mr Joseph says it also makes public transport more reliable and makes the case for travellers swapping their car for buses more persuasive.
Copyright Press Association 2015