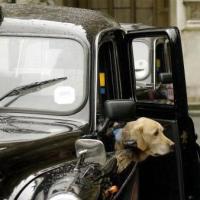 Taxi drivers who illegally refuse to carry guide dogs in their cars should face tougher penalties, a charity says.
The Guide Dogs charity also wants to see disability awareness training introduced for all taxi and minicab drivers.
Dozens of guide dog owners are set to visit Parliament tomorrow (Wednesday) to call for stronger sentences to be introduced for those who flout the law by turning away customers with assistance animals.
The call comes as new research by the charity shows that prosecutions for the offence are rare.
In some areas, it adds, the few drivers who are prosecuted are being handed fines as low as £50 or £100.
Guide Dogs' senior campaigns manager, James White, says despite it being illegal, guide dog owners are being turned away by taxi and minicab drivers with "shocking regularity".
Being turned away by a driver, he adds, prevents people with sight loss from doing things that everyone else takes for granted, knocks their confidence and causes distress.
Copyright Press Association 2016. Motoring News articles do not reflect the RAC's views unless clearly stated.