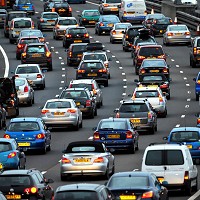 Engineers are calling for a national system of road tolls to be introduced to help ease congestion.
The Royal Academy of Engineering claims motorists in the UK endure the worst traffic anywhere in Europe, with long queues becoming a regular occurrence, especially on motorways and major A roads.
With the Department for Transport predicting a 55% increase in congestion by 2040, journey times are only going to get longer, the Academy says.
Over 20 possible measures were considered by industry experts and academic researchers as part of the paper, yet tolls were found to be the single best way to keep vehicles flowing.
Smart motorways were deemed too expensive to implement, while parking controls, car clubs and reformed bus services in cities were said to offer less value for money compared to road pricing.
The Academy says that influencing the time of travel and routes taken by drivers can achieve a substantial reduction in congestion without a significant decrease to the total volume of traffic.
But it acknowledges that political and public concerns around such schemes remain a serious barrier.
To attract support, surplus revenue from such schemes could be used to replace vehicle ownership and fuel taxes. Another option is to use profits to fund wider improvements across the roads network.
Copyright Press Association 2015. Motoring News articles do not reflect the RAC's views unless clearly stated.