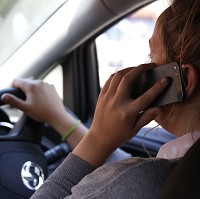 A leading road safety charity is urging the next government to tackle the number of drivers who flout the law.
Brake is calling on whoever wins power in the General Election to make enforcing traffic laws a top priority.
It claims a quarter of all drivers in the UK regularly break the rules of the road - from speeding to using a phone behind the wheel - and it wants to see more effective policing to bring this number down.
The call to arms comes as police forces say they have had to 'retreat' from policing on motorways, major and rural roads as a result of spending cuts .
The number of road deaths and serious injuries on UK roads increased in 2014 for the first time for several decades.
Half of the drivers breaking the law admit to doing so deliberately because they think they can get away with it or do not agree with the law. The other half claim they do not realise they are committing an offence.
Julie Townsend, deputy chief executive at Brake, describes law breaking on UK roads as an endemic. She says it represents a failure by government to ensure traffic policing is receiving adequate priority and to make clear the importance and legitimacy of traffic laws, which exist to save lives and prevent injuries.
The charity's research also shows drivers believe they are better, safer drivers now than 10 years ago.
Young drivers, meanwhile, are even more convinced they are safe drivers. This is despite statistics demonstrating they are the most vulnerable group of drivers on the roads when it comes to collisions.
A study released earlier this year revealed the number of police dedicated to enforcing traffic offences in England and Wales fell by an alarming 23% from 2010 to 2014 - equating to 1,279 fewer officers patrolling the road.
Copyright Press Association 2015