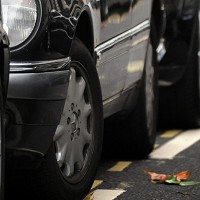 Calls for an industry standard parking space size in the UK are gathering pace.
YourParkingSpace, an online parking marketplace, wants to see car parking spaces large enough to comfortably fit modern vehicles implemented nationwide.
Parking spaces have remained approximately the same size over the course of the last six decades, even though some models are a fifth wider than they used to be.
This has resulted in more than half of motorists suffering damage to their car when parking in a car park in the past 12 months.
Today's Mini Cooper is 24% wider than the 1959 original; the Honda Civic is 18% wider than the first model launched back in 1973; and the Volkswagen Golf is nearly 12% wider than when it first rolled off the production line.
The Ford Fiesta, another traditionally small car, is 10% wider than the original 1976 version.
YourParkingSpace is proposing the introduction of a SizeMark standard. It believes a minimum recommended size for a parking space would help drivers minimise damage to their cherished motors.
Copyright Press Association 2015