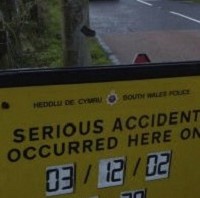 Road deaths should be handled by prosecutors specifically trained in that area, it has been claimed.
The Crown Prosecution Service (CPS) watchdog's call comes in a new report which claims three-quarters of cases involving bereaved families are handled poorly.
Wednesday's report argues that over a tenth of charges brought forward are incorrect. This regularly results in cases collapsing, the study by the HM Inspectorate of Constabulary and HM CPS Inspectorate found.
CPS Chief Inspector Michael Fuller believes the example of terror and rape prosecutions should be followed, creating specialist legal officials to deal with road fatalities.
He said little has been achieved since the last road fatality case review seven years ago.
There is a "pressing need" to see specialist lawyers prosecute such cases, Chief Insp Fuller added.
He called for extra resources and for family liaison workers to be given more "support" and "recognition" for their "crucial" part in such cases.
Copyright Press Association 2015