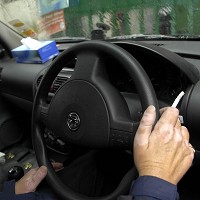 Health minister Earl Howe has claimed that motorists should be discouraged from lighting up inside cars while children are present.
Passive smoking is a serious issue and it can be extremely dangerous for youngsters to be in cars where adults are smoking, even if the windows are down.
But instead of legislating for a ban on sparking up behind the wheel, Lord Howe believes drivers can be discouraged through other means.
Ministers were challenged on the subject at question time in the Lords by Liberal Democrat Lord Storey, who suggested the Children and Families Bill presented an opportunity to put right the current situation.
"I agree we've got to do all we can to discourage smokers from lighting up when children are in a vehicle," Lord Howe told him. "We believe that can be done without resorting to legislation at present."
Labour's Lord Faulkner of Worcester, meanwhile, stated there was nothing in the European tobacco products directive that prevented the Government from introducing standard packaging and banning smoking in cars when children were present.
While Lord Howe confirmed this was so, he added that ministers wanted member states to have the flexibility to make further progress on "domestic tobacco control measures in key areas".
Copyright Press Association 2013