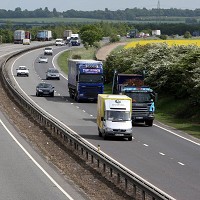 Local councillors are proposing that residents living close to the UK's first provisional new toll road in a decade should be exempt from payments.
A new stretch of the A14 in Cambridgeshire could be funded by drivers being charged between £1 and £1.50 for passing, according to a consultation document published by the Highways Agency in September.
The proposal follows George Osborne's Autumn Statement, in which he announced that the Government would fund new capacity on the country's road through tolls in "very limited circumstances".
Members of South Cambridgeshire District Council are now suggesting all vehicles registered in the area, except for HGVs, should be exempt from paying to travel on the new road, which they believe should be funded by central Government.
The alternative may be for local residents to use ajourney planner to avoid using the road, but as a minimum they believe residents should be offered a reduced-cost annual pass. This system was recently used for residents near to the Dartford Crossing in Kent.
Council leader Ray Manning acknowledged that upgrade work is needed due to the tailbacks, accidents and subsequent costs the road creates.
However, he added: "If tolls and local funding is the only deal in town then we must support it to make sure the upgrade takes place, but we are clear that we will fight our residents' corner and will be telling the Government that the national problem should be fixed with national finances."
Copyright Press Association 2013