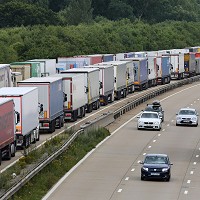 The Freight Transport Association (FTA) wants UK freight operators affected by Operation Stack this summer to receive compensation.
It is calling on the French Government to consider suitable financial packages to help recover some of their losses.
Estimates put the cost to UK hauliers stuck on the M20 in Kent between June 23 and August 2 at more than £21 million.
FTA deputy chief executive James Hookham says the chaos witnessed on the roads during Operation Stack was unacceptable.
Struggles with migrants in Calais meant police in Kent were forced to close the coast bound side of the M20.
Hundreds of lorries waiting to cross the English Channel were pictured parked either side of the carriageway.
Operation Stack has been used since 1996 whenever there is disruption to Channel crossings, usually in the event of poor weather.
But it is a costly exercise. The FTA estimates that the 28 days when Operation Stack was implemented between June 23 and August 2 cost UK hauliers over £21 million - a figure which does not even include loss of business, spoilt cargoes, missed export deadlines, or the percentage of journeys diverted.
Copyright Press Association 2015