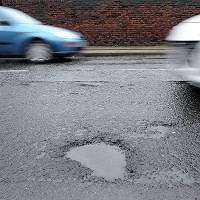 Northern England should get its own devolved transport authority to provide much-needed improvements to the road network.
The Institute for Public Policy Research (IPPR) has put forward the idea of a new body called Transport for the North (TfN) - similar to Transport for London - covering local authorities in the North West, Yorkshire and Humber and North East.
It could potentially oversee a £15 billion transport package, an idea put forward last year by northern cities.
The condition of the road network is a cause for concern, not just in northern England but across the country. Potholes are a common problem springing up nationwide, causing damage to vehicles.
Chancellor George Osborne is being urged to back the plan in his Budget this month. If the TfN comes to fruition, it would also be responsible for improving and integrating rail, sea and air transport in the region.
IPPR North director Ed Cox claims northern transport infrastructure is currently dated and in desperate need of change.
He believes devolving transport powers would help transform its growth prospects and rebalance the economy.
Copyright Press Association 2015