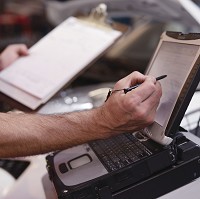 Motoring campaigners will ramp up the pressure on government to introduce licensing for all technicians working in the automotive industry, they have announced.
According to the Institute of the Motor Industry (IMI) new research shows around seven in every 10 voters already think technicians that service their vehicles or work on them after a breakdown have to hold a licence to do so, but that isn't the case.
The IMI points out that the impending introduction of driverless cars on the roads of Britain mean new legislation to make sure mechanics know what they are doing is vital for the safety of every road user.
It says it has the initial support of companies like AutoGlass, the John Clarke Motor Group and TrustFord for introducing licences for vehicle technicians and intends to canvas independent firms in the future.
The idea of cars that drive themselves makes licensing far more urgent in the opinion of Steve Nash, the CEO of the IMI.
Mechanics must know how hybrid engines work and understand the technology behind driver assistance systems to make sure vehicles are working properly, he says.
He adds that those who are not properly trained are putting people at risk when working on their cars.
Copyright Press Association 2014