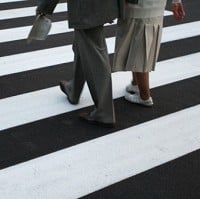 Researchers have warned that pedestrian crossings fail to give the elderly enough time to cross the road.
The study found more than three-quarters (76%) of men and 85% of women over the age of 65 do not walk as fast as the standard walking speed used to calibrate pedestrian crossings.
The University College London report was based on walking-speed tests conducted by the Health Survey in England on around 3,000 older people in 2005.
The findings were published in the journal Age and Ageing.
The Department for Transport uses the international standard speed of 4ft per second for pedestrian crossings.
However, the study found the average walking speed for older men and women was 3ft per second and 2.6ft per second, respectively.
The report authors are calling for the timings used on pedestrian crossings to be reviewed.
Dr Laura Asher, report leader and public health expert at University College London, said: "Walking is an important activity for older people as it provides regular exercise and direct health benefits."
Local transport minister Norman Baker said: "The department recommends that where a crossing may be used by a large number of older people or those with mobility issues, for example outside residential care homes, this should be taken into account in the timings set by local authorities."
Copyright © Press Association 2012