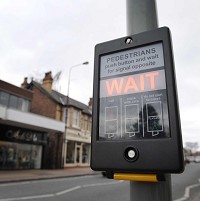 Campaigners are calling for three more seconds to be added to the time allowed at pedestrian crossings to help keep older people safe.
Charity Living Streets is heading the Give us Time to Cross push for more "green man time" to suit people over the age of 65, who often walk much slower than the assumed four feet per second walking speed of pedestrians.
It claims the time given at pedestrian crossings has not changed since the 1950s, even given the ageing population in Britain.
It also highlights research carried out by University College London (UCL) that found pensioners walk at between 0.8 and 0.9 metres per second, meaning they are less likely to be able to make it across the road in time.
RAC spokesman Simon Williams said: "It is vital that everyone using a pedestrian crossing has enough time to get across the road safely. The current time allowed does seem too short and one wonders whether you have to be an athlete to reach the other side before the lights change.
"While adding three seconds to the crossing time is a good idea in principle we need to be wary of creating a situation where motorists end up sitting at lights waiting for them to change when no one is crossing as we know frustration causes a host of problems on the road. The application of technology such as the use of sensor has to be answer to prevent this situation from becoming commonplace."
The findings come ahead of a Department for Transport review of signal controlled crossings next year.
It could mean the time given to cross being extended on the roads of England, Scotland and Wales.
The current time given to cross is far too fast for most people over the age of 65, according to Dr Jennifer Mindell, a senior lecturer in epidemiology and public health at UCL.
Copyright Press Association 2013