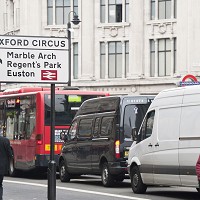 Vehicles powered by liquefied petroleum gas (LPG) should be exempt from the congestion charge in London, Autogas Limited says.
The green fuel can no longer be overlooked as a viable alternative to diesel and petrol to tackle the ongoing emissions problem in the capital, according to the LPG supplier.
The plea comes after a report claimed as many as 9,000 deaths every year in London can be attributed to the poor air quality linked to diesel engine emissions.
Of all the boroughs in London, Bromley and Sutton were the only two to meet EU pollution limits in 2013.
Autogas has now made fresh calls for LPG fuel to be officially integrated into transport policy in an effort to reduce air pollution and, ultimately, save lives.
The company claims that vehicles powered by LPG emit up to 80% less nitrogen dioxide than diesel cars, and up to 98% fewer particulates.
Linda Gomersall, general manager at Autogas, says the latest figures are "incredibly worrying" and urged the Mayor's office to take immediate action to protect the health and wellbeing of people living and travelling into the city.
Previously, incentives were available for motorists converting to LPG, and cars fuelled by LPG received a 100% discount from the congestion charge.
But Transport for London later phased out the discount and the wider conversion incentive was withdrawn.
Autogas says this means many drivers fail to consider a cleaner alternative, often going back to heavily-polluting diesels.
Ms Gomersall says that by reintroducing the discount for LPG-powered cars and offering conversion incentives once again, many motorists will be encouraged to return to the cleaner fuel and "we can start making an immediate improvement in London's air quality".
Copyright Press Association 2015