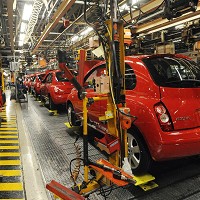 The coalition Government should do more to encourage the motor industry to exploit the expanding international ultra-low emission vehicle (ULEV) market, a think-tank has declared.
The Institute for Public Policy Research (IPPR) called for the coalition and industry to take unprecedented concerted action to develop the UK's comparative advantage in the sector, where there is already healthy competition to provide the cheapest green car insurance for drivers of low emission vehicles.
It said the strategy should focus on three areas of industrial policy - ensuring firms in the supply chain have access to the required finance, providing greater public investment for innovation and ensuring an adequate supply of engineers by adopting new strategies in higher education, immigration and apprenticeship policy..
The report was welcomed by the British Vehicle Rental and Leasing Association (BVRLA), whose chief executive John Lewis criticised the Government for ignoring the vehicle rental and leasing industry's crucial role in driving the uptake of ultra-low emission vehicles.
He said the BVRLA will continue to lobby for the reinstatement of 100% First Year Allowances for the sector to encourage sales of new ultra-low carbon vehicles.
Copyright Press Association 2013