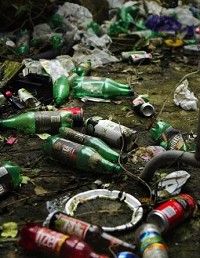 Litter campaigners have urged the Government to make it easier to punish drivers who are caught throwing rubbish from their cars while driving.
Keep Britain Tidy said motorists who are caught dropping litter should receive one penalty point on their licence and be issued with a fine as it launched a drive to crack down on people dropping litter from vehicles.
The group wants current laws widened so that the owner of a vehicle is fined regardless of whether they threw the litter or it was one of their passengers.
Phil Barton, the organisation's chief executive, said: "Our research shows that the best deterrent to stop motorists littering is points on their licence, community service and a large fine - in that order."
The organisation said 700,000 bags of rubbish are collected from England's roads each year, including fast food litter, cigarette stubs, drinks cartons and apple cores.
Copyright © Press Association 2009