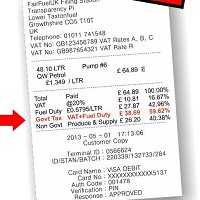 FairFuelUK is to unveil a giant fuel receipt with VAT and Fuel Duty separately listed to fully show the total Government's take in tax each time we fill up our vehicles.
Just under 60% of the fuel price is currently made up in tax - something which the campaign group believes should be clearly shown on every pump receipt.
"A good government should never be afraid of transparency," said Quentin Willson, lead spokesman of FairFuelUK.
"To deny UK consumers this insight into where their money goes would be deeply remiss. There's a moral imperative here that shouldn't be ignored."
Fuel costs the average motorist £1,700 a year at present.
Robert Halfon MP, parliamentary campaigner for lower pump prices and long-time supporter of FairFuelUK, described fuel duty as a "toxic tax".
Although fuel duty has been frozen for the past two years, fuel prices have still shot up across the country.
Mr Halfon proposed legislation for fuel receipts to clearly show the amount of fuel duty paid every time people fill up, as well as how much of it is spent on road maintenance and how much of it goes to the oil companies.
Copyright Press Association 2013