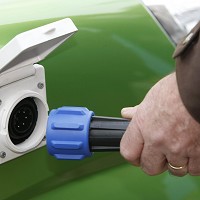 Nissan and green energy supplier Ecotricity are calling on the Government to introduce official road signs for electric vehicle charging points.
The car firm, which makes the Nissan Leaf, has joined forces with the operator of the national charging network the Electric Highway to campaign for recognisable signage on UK roads.
Although there are more than 9,000 electric vehicle (EV) charging points nationwide, there is still no official signage to direct motorists to them.
Nissan and Ecotricity point out that there are, however, official signs for "migratory toad crossings".
They want policymakers to take action and raise awareness of the UK's EV infrastructure by introducing universal symbols that can be used to identify the different types of EV charging points available, notably standard and rapid.
Jim Wright, managing director of Nissan Motor (GB) Ltd, says the carmaker believes that electric driving offers a number of benefits to UK motorists and should be made accessible to all.
He is urging the Government to "give electric vehicles the prominence they now deserve" and introduce official signage for charging points across the UK.
Nissan has sold more than 11,500 all-electric Nissan Leafs in the UK since the vehicle was launched in 2011.
As part of the signage campaign, key figures in the motoring and sustainability sector will be asked to share their views on the UK's EV charging network in a bid to encourage the Department for Transport and Office for Low Emission Vehicles to take action.
Ecotricity founder Dale Vince says both the cars and the infrastructure are in place to support the "electric car revolution in Britain".
With Electric Highway pumps at almost every motorway service station and companies like Nissan developing quality electric cars, he believes the time is right to introduce charging point road signs in the UK.
He says they will provide necessary direction for the thousands of electric car drivers as well as increase public awareness that "the infrastructure is ready for them to make the move to an electric car".
Copyright Press Association 2015