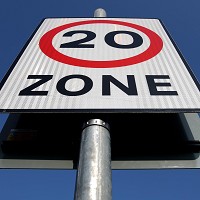 Local communities should have a say in lowering speed limits on their roads, claims a Tory MP.
Scott Mann (North Cornwall) believes local people are best placed to know what speed is right for their neighbourhood.
His Speed Limits on Roads (Devolved Powers) Bill, which was recently proposed in the Commons, would allow town and parish councils to call local referendums on lowering speed limits if there was local demand for a change.
Mr Mann says local people often know better than an officer of the council when it comes to whether speed limits on their roads are too fast or too slow. They live in the community, while a councillor may reside some miles away.
He believes the referendums would empower local communities and encourage safer environments for motorists and pedestrians.
To save costs, referendums take place at the same time as other elections. But the Bill, which was accepted at first reading, is unlikely to become law in its current form due to a lack of parliamentary time.
Motoring News articles do not reflect the RAC's views unless clearly stated.
Copyright Press Association 2015