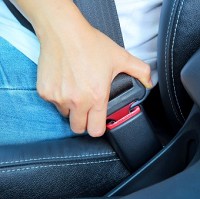 Simple changes to the design of the existing car seatbelt could help more people fasten them on their own, it is claimed.
Christopher Fox, a product design student at Nottingham Trent University's School of Architecture, Design and the Built Environment, recently found that 13 out of 30 people with rheumatoid arthritis and osteoarthritis have to ask for help when putting on their seatbelt because fastening it up is too painful.
He is therefore calling for a straightforward redesign to help save a number of arthritis sufferers from a lot of pain and ensure their safety when getting from A to B.
The 22-year-old will showcase his own design, which centres on switching the positions of the buckle and the clasp in order to ease use, at Nottingham Trent University's upcoming degree shows.
It also features a cylindrical shape to make it easier to hold and has been modified so that it can rotate 180 degrees as the user passes it over their chest, meaning they no longer have to rotate their wrist while fastening the belt.
Copyright Press Association 2014