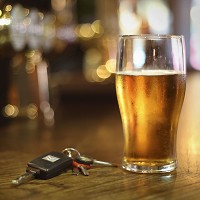 All cars could be equipped with common fittings for safety technologies like breathalysers, if the European Commission gets its way.
It wants to make such fittings compulsory in a bid to reduce the number of alcohol-related deaths on roads in Europe.
But the car industry does not see eye-to-eye with the current proposals, citing concerns about cost.
Alcohol interlock devices were among a number of technologies listed in a report published last month by the Commission, along with automated emergency braking, intelligent speed adaptation, and cameras that replace rear-view mirrors.
They are breathalysers installed on a vehicle's dashboard. Before the engine can be started, drivers must test themselves by breathing into the device. If the driver is over the drink-drive limit, the engine will not start.
Such devices are already fitted to vehicles as part of rehabilitation programmes for convicted drink-drivers in several European countries including Belgium, Sweden and the Netherlands.
Now the Commission is looking to make the technology compulsory in all cars. It estimates that a quarter of all road deaths in Europe are alcohol-related.
But the Association of European Carmakers (ACEA) is against the idea, instead preferring a system whereby manufacturers provide standardised information to installers on how interlock systems may be fitted onto cars.
It claims this would be quicker and just as effective, reducing the risks, costs and delays of a standard interface.
Vehicle systems would be more vulnerable to hacking under the Commission's proposals, the ACEA says, enabling people to illegally immobilise them and facilitating the mimicking of the devices.
In response, the European Transport Safety Council has hit back by saying merely providing information would do little to bring down the cost of installation and be less effective in preventing drink driving.
The fact that there is no standardised socket for plugging alcohol interlock devices into vehicles and connecting them to the ignition means widespread installation is currently a problem, so do not expect to see them anytime soon.
Copyright Press Association 2015