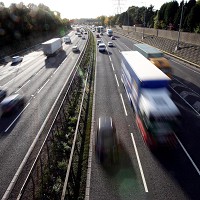 Better driving tuition is the only way to cut the number of people killed or injured on Britain's roads, a campaign group claims.
Announcing that it is becoming a charitable trust, the Under 17 Car Club said motorists under 25 were responsible for about a third of all road deaths. Backed by MPs, traffic police and motoring and safety groups, the trust says it will campaign for major driving training improvements.
Launching the new trust at Westminster, chairman Paul Silverwood said: "At present, the way most young people learn to drive does not provide them with the skills they need to survive the most dangerous year of their lives."
He said the urgent need for better training was highlighted by figures which show more than a quarter of teenage motorists had a crash within a year of passing their driving test, with almost a third of those killed or seriously injured aged under 25.
A study has found graduates of the club, which helps under-age drivers improve their skills legally and safely, are three times safer than other motorists, with a first-year accident rate of just 6.6% compared with 20% nationally, and traffic convictions running at 13% compared with 52% overall.
Copyright © Press Association 2012