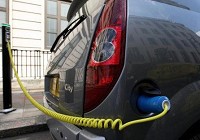 The Institution of Mechanical Engineers (IMechE) has advised the Government to begin offering a £5,000 subsidy for the buyers of electric cars from 2010 instead of 2011.
IMechE has said the Government cannot achieve its emission targets just by promoting the use of electric cars, and should instead plan and invest in research and development of low carbon vehicles.
The current target of 100g/km by 2020 should be revised to 30g/km by 2050, the report said, adding 30g was only an achievable figure if everyone set about the task immediately.
It added: "This will allow sufficient time for industry to plan and develop the technologies thereby helping to secure a successful future for the UK automotive industry, which currently employs 850,000 people and has a turnover of £50 billion."
The report suggests use of hybrid, fuel cell, hydrogen, battery-only electric cars - and advanced petrol and diesel technologies.
IMechE automotive division chairman Richard Folkson said: "This report has been written because we have felt the Government has given us no choice."
Copyright © Press Association 2009