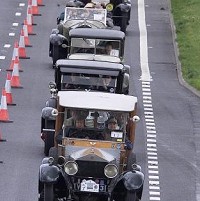 Classic car enthusiasts should receive further Government help through the lowering of the threshold on tax exemptions, a vintage vehicle group suggests.
Currently drivers buying a car in this genre enjoy rolling tax exemptions if their vehicle is at least 40 years old.
But the Federation of British Historic Vehicle Clubs wants all political parties to subscribe to a lowering of this value to 30 years, in their General Election manifestos.
Ministers introduced the rolling exemption last April. But switching to a 30-year rule would put the UK in step with the remainder of European countries. These bestow "historic" status upon their cars upon reaching 30.
A spokesman for the federation, which represents more than 250,000 members and 500 classic organisations, said it is encouraging all parties to back a rule change.
No party has yet officially commented on the issue. But classic owners from the ranks of both Conservative and Labour MPs have expressed their individual backing for the switch to 30-year road tax exemptions.
Copyright Press Association 2015