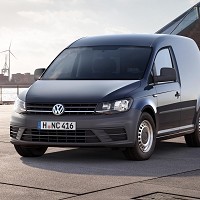 The 11-year wait for a new Volkswagen Caddy van is finally over.
The German manufacturer's fourth-generation model should hit the UK's streets this autumn, a few months behind mainland Europe's left-hand drive owners.
VW describes the model as ideal for companies which require car-like design and convenience. And t he latest edition takes things a step further for drivers thinking of buying a car or van in 2015.
The fourth-gen is sharper, more eco-friendly and is equipped with more up-to-date motorist help networks. These include a new reversing camera which, along with Park Assist, should make it less hassle to squeeze into narrow city parking spots.
Its latest emergency braking system will stop the van automatically in the event of it spotting an impending collision at under 19mph.
The new Caddy will have a cruise control option unlike its predecessors. Owners should also enjoy a wide variety of models to choose from, whether they want an MPV or panel van, as well as numerous engine options ranging between 74bhp and 148bhp.
VW is confident that its BlueMotion van can achieve 70mpg or above.
Copyright Press Association 2015
%20http:/www.rac.co.uk/buying-a-car (buying a car)