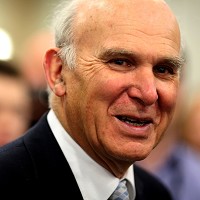 Business Secretary Vince Cable has opened a new innovation centre for the development of intelligent mobility.
The "Imovation Centre", located at the Transport Systems Catapult's Milton Keynes base, aims to make headway in the emerging global smart transport technology sector, set to be worth £900 billion a year by 2025.
It is hoped the centre, tasked with making transport more seamless, smart and efficient, will generate up to £90 billion per year for the UK over the next decade.
Examples of its work include projects on driverless vehicles, improved airport data systems and smart traffic lights.
By 2019, the centre will contribute £712 million in economic value to the UK, and forms part of the government's long-term plan to deliver highly-skilled jobs and growth.
In opening the new centre, Mr Cable hailed Britain's "long history of transport innovation" - from shipbuilding to the railways - and said the new centre puts the UK in a healthy position to profit from the growing call for hi-tech transport solutions.
Copyright Press Association 2014