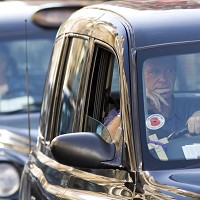 Taxi drivers in the capital have once again taken to the streets to protest against Transport for London (TfL).
They have expressed anger at a "cavalier attitude" towards protecting the struggling taxi trade and the safety of passengers in the city.
Hundreds of cabbies drove in both directions along Oxford Street at 2pm on Tuesday for the "maximum visibility, minimum disruption" demonstration in the latest move of an ongoing dispute between the taxi industry and the transport regulator.
Len Martin, chairman of United Cabbies Group - the union behind the protest - says the trade is being exterminated by TfL.
He claims taxi drivers are being driven out of town by illegal touting and plying for hire, something which has led to a serious threat to public safety, yet the regulator is doing nothing to prevent this from happening.
In June last year, a strike organised by the Licensed Taxi Drivers Association brought London to a standstill as thousands of cabbies expressed disappointment in TfL.
Six months later, in December, the London Assembly's Transport Committee released a report that called on Mayor Boris Johnson and TfL to get a grip on the "spiralling situation" currently facing taxi drivers.
Caroline Pidgeon, the committee's chairman, described TfL's performance as "woefully inadequate".
Earlier this month, Ms Pidgeon sent a letter to TfL commissioner Sir Peter Hendy that claimed the role of Uber - a mobile app company that helps people find a taxi, private car or rideshare from their mobile phone - had played a part in the fiasco.
Mr Martin says the aim of the most recent rally was to draw public attention to government body's "cavalier attitude" towards enforcing its policies against illegal touting and plying for hire in the capital.
He claims it was not a protest against Uber, adding there is nothing wrong with a bit of healthy competition.
Copyright Press Association 2015
https://www.uber.com/ (Uber)