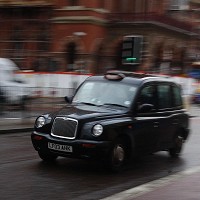 Hundreds of London cabbies and private hire drivers are doing their bit for the environment and saving money by practising smarter techniques behind the wheel.
Since January approximately 456 drivers have taken part in the Smarter Driving training programme from theEnergy Saving Trust (EST).
The course aims to help drivers boost fuel efficiency and better anticipate road conditions.
The capital's taxi drivers achieved an average fuel saving of 24%, exceeding the average driver fuel saving of 15%.
And with London cabbies estimated to spend £2,224 on fuel travelling 8,000 miles per year, according to a 2009 report, the smarter fuel techniques could help to save them £500 a year.
Bob Saynor, Smarter Driving programme manager for the EST, said: "A London taxi driver uses around 1,590 litres of fuel per year, releasing over four tonnes of carbon dioxide into the atmosphere.
"With heavier traffic congestion and even more visitors using transport on the city's roads, emissions during this time are likely to increase to even greater heights.
"The Smarter Driving techniques help drivers anticipate further ahead, drive more smoothly and avoid unnecessary acceleration and braking."
Copyright Press Association 2012