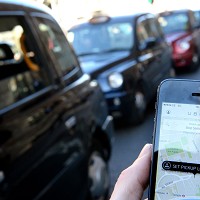 London was brought to a standstill as thousands of black cab drivers blocked the streets in protest against Uber.
Cabbies in the capital are unhappy about the lack of regulation applied to the travel company's app, which lets users hitch rides in the city.
More than 8,000 of them were involved in the protest on February 10, forming a blockade that stretched a mile either side of Whitehall.
Black cab drivers say the increasing number of unregulated Uber drivers are a threat to their profession and have called on the Government to take action.
They claim an estimated 600 new licence applications for Uber each week, yet just 10 people pass the knowledge test during that time.
Brian Garvey, vice chair of the United Cabbie Group, hailed the turnout as "fantastic".
Cabbies say they want is a fair playing field in which the same regulations apply to everyone. They recently rejected an offer from Uber which would allow them to use the taxi-hailing app for free for 12 months.
Copyright Press Association 2016. Motoring News articles do not reflect the RAC's views unless clearly stated.